In Memory
George Fenton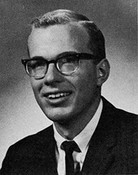 Obituary:
George E. Fenton 61, of Seabrook died Saturday August 4, 2007 in South Jersey Regional Medical Center, after a valiant fight with cancer. George was born May 27, 1946 to Walter and Rosalie Schulert and was the youngest of six children. He was orphaned in his first year of life and was, along with his brother John, adopted by the late Horace ?? and Helen Fenton, who were missionaries to Costa Rica with the Latin America Mission. His youth was spent in Costa Rica and in New Jersey.
He was a graduate of Bogota High School, Bogata , New Jersey in 1964, and received an AA Electronics Degree from Northwestern Electronics Institute, Minneapolis, Minnesota and spent his career working in that field. He was an expert in computers and computer controls. His most recent employment was with South Woods State Prison, as a Technical Instructor in Electronics.
George was a regular and faithful donor of blood and platelets in the pheresis programs in the Burlington, Vermont and Penn-Jersey regions. He was a member of Country Road Bible Church in Pittsgrove Township where he participated in the choir, praise team, and children and teen ministries.
He is survived by his loving wife Ruth Ann (nee Lewis) Fenton of 39 years, his son Edward, two daughters, Sara and her husband Chuck, and Caren and her husband Wesley. Five grandchildren and siblings Jim, John, Carolyn, and Donald. He was predeceased by his brother Charles and his adoptive parents.
Family and friends are invited to attend a memorial service on Friday August 17, 2007 at 7:00 p.m. from the SRAY-WEBSTER FUNERAL HOME, 62 Landis Ave. at Carll's Corner, Upper Deerfield Twp.
Friends may call on Friday evening from 6:00 to 7:00 p.m. prior to the service at the funeral home. The family request that memorial gifts be given in lieu of flowers to any of the following: Latin America Mission, 5465 NW 36th St., Miami, FL 33166 or to Country Road Bible Church, 188 Husted Station Road, Pittsgrove, NJ 08318, The American Red Cross, Spring Garden Road, Philadelphia, PA 19130 or Habitat for Humanity, Cumberland County Branch, 610 E. Landis Ave., Vineland, NJ 08360.